Kitchen knives & cutting
Nesmuk EXCLUSIVE: beauty in the form of a Chef's knife
When you first become acquainted with a kitchen knife from the EXCLUSIVE Nesmuk collection your eyes will be drawn towards the unequalled damask steel of the blade.
This steel is comprised of 480 layers, folded around a carbon steel core. This core has an extreme hardness of 64-65 HRC. The blade has a hollow grind on both sides making the blade itself extra thin and therefore incredibly sharp. Cutting with a Nesmuk knife will be a piece of cake.
A silver crop!
The unique blade merges with an ergonomically sound handle. As such you can use this knife for longer periods of time. The transition between handle and blade is finished with a silver crop. It goes without saying that only the best experts at Nesmuk make these knives by hand. You should compare them to best designers from Milan and Paris. Even within the exclusive world of Nesmuk EXCLUSIVE truly means exclusive. It is an amazing achievement!
Unequalled sharpness
Each knife should be sharpened when used on a regular basis. A knife with a hollow grind is easier to sharpen. Using a stropping paddle treated with diamond paste is often enough. However, these knives do need to be sharpened by someone who knows what they are doing. If only to make sure they won't be damaged. Not sure if you should sharpen the knife yourself? Nesmuk will do it for you! For free, for over 30 years! Check out the Nesmuk site for the procedure.
Like any other great kitchen knife a Nesmuk should not be cleaned in a dishwasher. Wash it by hand after using it and dry it properly. Only use it in combination with a wooden cutting board. Treat this knife right and you will enjoy it for the rest of your life. And so will your (grand)children!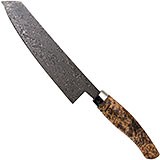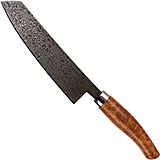 <![if !IE]> <![endif]>