Multi-tools: the tool box in pocket size!
With a Multi tool you have all sorts of equipment at hand in one practical tool. Multi-tools help you in situations when no screwdriver, knife, saw or plier is around. Multitool, the name says it all, is multiple equipment in compact size. Multi-tools have gained a permanent place in the tool belt of engineers, DIYers, roadies, carpenters and outdoor sporters.
Not by accident of course, because nothing is more practical than a miniature tool box on your belt. The compact multi-tool is frequently used by professionals. The multitools you buy from knivesandtools.co.uk are perfectly suitable for that purpose.
Multi-tools by Leatherman
The name Leatherman is a synonym for the handy pocket tool called multi-tool. The first product by Leatherman was only introduced in 1983. It now is an essential tool that should also be at your fingertips.
Multi-tools from Victorinox
Victorinox is the manufacturer of the famous Swiss pocket knife. Originally (late 19th century) Victorinox made folding knives for military use. The pocket knives and the multitools of Victorinox have become very popular since.
How can you buy the multi-tool that suits you best?
You will find a very broad assortment of multi-tools in our online shop. We are the official distributor for a.o.: Leatherman, Gerber and Victorinox. Firstly, it is important to decide which format of multitool you wish to buy. There are key ring multitools and small multitools like the Leatherman Squirt, Juice and Micra. It is also important to define which tools or functions the large multitool must have for you. If you wish to buy multitools with a personal touch, have them laser engraved with your name or another text. That only costs £ 4.90. We also stock many accessories for Multitools.
Knivesandtools for compact multitools, the essential tool, multitool of credit card size, leather or nylon case, at the best price.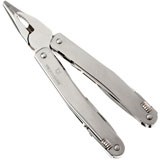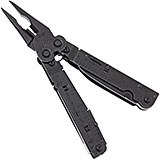 <![if !IE]> <![endif]>