Güde kitchen knives, quality from Solingen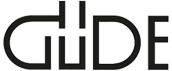 Güde kitchen knives are produced in the center of the German knives world: Solingen. Meanwhile, the fourth generation is at the helm of the Güde-factory.
For more than a century (since 1910!) these German quality kitchen knives are made. A lot of work is still done by hand. More than thirty steps in the production process require the eye of one of Güdes master knife makers. It was a conscious decision to choose hand work over mass production. The result is an exclusive kitchen knife that guarantees years of pleasant use in the professional or home kitchen. It's for good reason that Güde won many prizes with his kitchen knives.
Ice hardened steel and more
The blade of a Güde kitchen knife is made of ice hardened chrome-vanadium-molybdenum steel. The handles are riveted tot he continuing blade with a double bolster. This double bolster gives the knife its recognizable profile and also provides the correct balance, that is found in each Güde kitchen knife.

<![if !IE]> <![endif]>