Pocket Knives & Multitools
MKM Knives: Italian top-quality, born from unity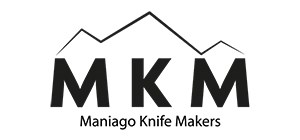 MKM Knives is the result of a remarkable cooperation between knife makers from Maniago, Italy. These Maniago Knife Makers (MKM) have introduced a collection of top-quality knives. They joined forces to end up with even better results.
MKM Knives prove that cooperation works
These four knife makers are LionSteel, Viper, Fox and Mercury. Each company has its own specialty and together they created an entire collection of knives. There is something for everyone: from slipjoints and gentleman's knives to tactical fixed knives and EDC-pocket knives. All made from the best materials and finished according to the Italian standard. This means that everything is perfectly rounded and a lot of attention was paid to the so-called 'surface finish' of the parts.
Bob Terzuola and Lucas Burnley
Great designs don't just fall from the skies. For that reason MKM asked two heavy-weights for help: Bob Terzuola and Lucas Burnley. Both accomplished many things throughout the years. Terzuola, for instance, invented the modern EDC pocket knife. For dozens of years he has been working as one of the most respected knife makers in the knife industry. Burnley represents a new generation of designers who, in only a short amount of time, has left a mark on the market. His designs for many influential knife makers appeal to many people.
MKM and Mikita
The cooperation between the knife makers has been given the name Mikita: Maniago Innovation Knives Italy. Together they decided to increase the overall level of quality. In the end they decided to call their joint knife brand MKM: Maniago Knife Makers. The ties between Mikita, MKM and Maniago are also emphasized as each model was given the name of one of the mountains or hills surrounding the city of Maniago.

<![if !IE]> <![endif]>