Leatherman Wave multi-tools: the most popular Leatherman multi-tool
The Leatherman Wave collection is Leatherman's best-selling collection. These multi-tools contain approx. 18 tools and are all compact and practical in terms of size. From one-handed opening blades to solid pliers with interchangeable wire cutters. Are you looking for the all-rounder amongst multi-tools? You cannot go wrong with the Leatherman Wave.
Make the most of your Leatherman Wave multi-tool
The Leatherman Wave and Wave Plus are the most popular multi-tools on the market today. But how do you make the most of your multi-tool? Have you found the hidden tools yet? We will tell you more!
Best Seller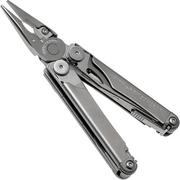 Best Seller