LED torches & batteries
Gear Keeper: easily and safely keep your gear close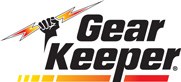 At Gear Keeper you are at the right place when you are looking for a gear retractor. The brand name basically says it all: a Gear Keeper will help you keep all of your belongings close.
You will attach the retractor to your clothes, bag, or wrist, and use the other end to attach your tools to. Think of a flashlight, knife, camera, keys, tools, or perhaps something else. As soon as you have attached your tool you will never lose or drop it again. A practical solution for various purposes.
You use a Gear Keeper to safely and easily keep your flashlight, tools, camera, keys, or any other equipment close. The retractors have been made for various purposes, such as for medical assistance, law enforcement, fly fishing, hunting, and diving. Extremely diverse which is why it is important that the product is strong and sustainable. The gear keeper is also equipped with a patented flushing system which removes sand, salt water, and debris during normal use. After using the retractor you can also clean it yourself in order to extend the life span of the device.
Gear Keeper: mounting methods
Gear Keeper uses two so-called Quick Connect systems, attached to the base of the retractor. The difference between these two system is its width: Quick Connect I (Q/C-1) is 1,5 cm wide, Quick Connect II (Q/C-2) is 2,5 cm wide. You need to pay close attention to this detail when purchasing accessories. In addition, there are a number of different methods for attaching a retractor to your clothes, bag, or wrist: a lanyard, snap clip, threaded stud, Velcro strap, Molle mount, or a clip to attach it to your belt.
Using a gear retractor
You attach the gear retractor to your clothes, bag, or vest using a mounting system. At the base of the tool you will find a mounting system which you can use to attach the retractor to your gear. Think of a flashlight, keys, a camera, GPS units, or any other electronic device. In order to use the concerning device you simply pull it from the retractor. The cord attached to your gear automatically follows. Your gear will always be attached to the retractor. As such you will never be able to drop or lose it ever again. As soon as you are finished you carefully let go of your device and the automatic retracting system will smoothly pull your gear back to the retractor. In short: grab, use, let go, and you are done. You will no longer have to store any of your devices.

<![if !IE]> <![endif]>