How-to
How to: maintaining an axe
You need to maintain an axe is you want to enjoy it for years to come. But how much maintenance does an axe need? Maintenance is comprised of two parts: sharpening the head int ime and maintaining the handle. In this topic we will tell y ou how to maintain the handle of your axe.
Most handles are enhanced with a layer of linseed oil in the factory. If you really consider your axe to be simple tool the handle will last a couple of years. Maintenance, however, will make sure that the handle will last a lifetime.
Simple maintenance
In addition to keeping it dry and clean it is important to occasionally rub oil over the handle and mainly the eye (the place where the handle is secured in the head, see anatomy of an axe). Once a year will do the trick. This will prevent the handle from wearing out or tearing because it is too dry.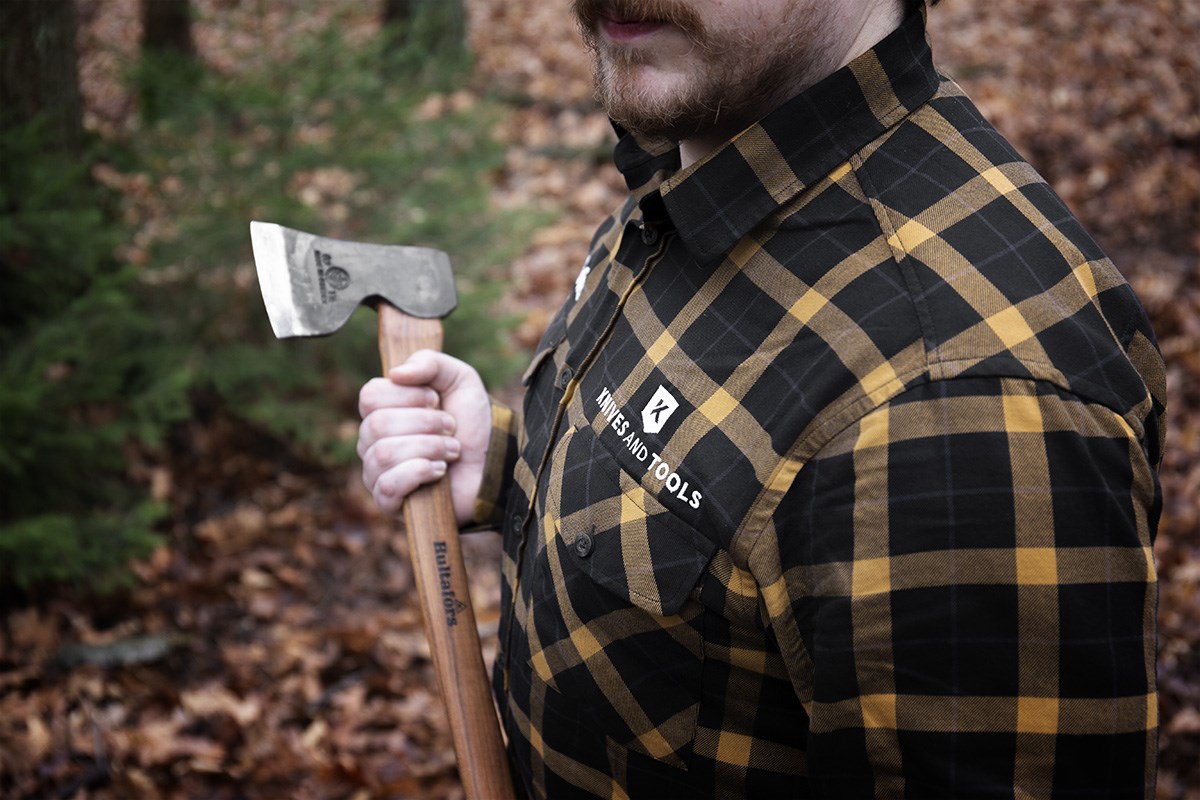 Extensive maintenance
Do you love your axe and want it to last a lifetime? There are a couple of steps you can take to make sure the handle feels even better in hand, to keep it clean and to make sure it will last a lifetime.
You need the following tools
Stanley knife
Steel wool
A mixture of 70% linseed oil and 30% turpentine.
Hot water
Steps
Step one: Loosen the fibres of the handle with the Stanley knife. You do so by placing the knife at an angle around the handle and pulling the knife towards you. Make sure you don't do it the other way around and cut into the wood! Repeat this process and cover the entire length of the handle and also the wood in the eye of the axe.
Step 2: Pour hot water over the handle to make sure the wood fibres expand and allow it to dry. As the handle is drying you can start
Step 3: Step 3: Heat up the mixture of 70% linseed oil and 30% turpentine to make sure the viscosity decreases. Do not let it come to a boil!
Step 4: Spread the mixture out over the handle and use the steel wool to rub the oil in the wood. Easy right?
Now here's the catch
You need to repeat this process every day in the first week.
Repeat this process once every week for a month after that.
Repeat this process once a month for a year.
Finally, repeat this process once every year.
Sharpening the axe head
If you carry out all steps you will definitely enjoy your axe for years to come. Sharpening the head In addition to maintaining the handle it is also important to sharpen the head of the axe. But how do you sharpen an axe? We got to work and made a list of all do's and don'ts. You can read all about it here: How do you sharpen an axe?
---
<![if !IE]> <![endif]>