Gearmix: On the road, ready for anything with Gerber
Enjoy nature. With Gerber by your side, you'll be ready for anything. From digging a fire pit with Gerber's foldable spade to gathering wood using a bushcraft knife. While enjoying your cosy campfire, open up a cold drink with a bottle opener and enjoy every moment.
Items in this Gearmix
1. Gerber folding spade
The Gerber Gorge is an inexpensive folding shovel designed for hiking and camping trips. You can dig a hole to light a fire, or dig a trench around your tent for drainage. With the Gorge it's a piece of cake. With a folded length of only 24 cm, it takes up hardly any space. You can easily carry it in your backpack. To get it ready for use, simply unscrew the cuff and flip open the spade.
2. Gerber Principle bushcraft knife
The Gerber Principle is a cool bushcraft knife. Gerber truly did its homework when developing the Principle. The brand carefully looked at the needs of both amateur and expert bushcraft enthusiasts, making the Principle the perfect knife for every level. The blade was also carefully thought-through. The spine of the blade was sanded at a 90-degree angle to make sure it is sharp enough to scrape a firesteel to build a fire.
Promo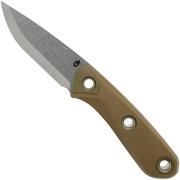 Promo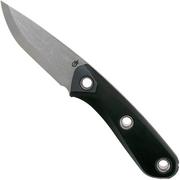 3. Gerber Lockdown Slim Pry
The Gerber Lockdown Slim Pry is a compact prybar multi-tool for everyday use. This prybar has a flathead screwdriver, tack puller, knife and scissors. In addition, this prybar functions as a bottle opener so you can open up a cool drink on a hot summer day. The Lockdown Slim Pry is a versatile tool that you carry with you throughout the day!
Promo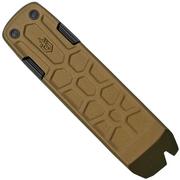 Promo